Yay for stylish reusable bags!
I have another brand of super-cute reusable bag I want to share with you all, and the best part is that they're totally Canadian!
Internet, I'd like you to meet My Bag!
I've written about my quest to find cute reusable bags to keep with me for shopping and errands. I need to keep them on hand because the City of Toronto has a new bylaw where you are charged 5 cents per plastic bag, wherever you shop. This is in an effort to reduce the amount of plastic going into our landfills.
I am fully on board with the environmental reasons for using reusable bags, but I also prefer them over plastic anyway. They're a fantastic way to sport some of your own unique style, and they do a better job at toting stuff than plastic bags, anyway.
So, back to My Bag. The My Bag is a product of Canadian designer Nancy Gana, who has also designed for the likes of L'Oreal, Revlon, Pepsi, Tylenol, Coty and Electrosol.
Nancy has loved art from a very young age — Clean design married with form and function is her mantra. She believes that Canada has a unique design sense and its own identity.
These qualities are reflected in her bag designs; elegant florals and bold blocks of colour bring life to an otherwise ordinary shopping bag.
In addition to the lovely aesthetics of the bag, the function and practicality are also impressive. The bags cleverly fold up into a small pouch with built-in velcro tab to hold it all together. The tab also doubles as a closure for the bag when in use.
I don't have a photo of my bag in use, but here is the design I chose!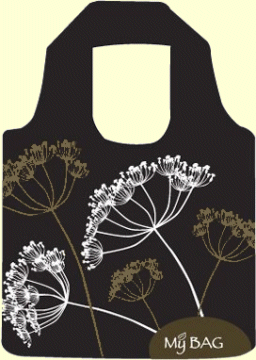 Isn't it totally stunning? I love the elegant lines of the Queen Anne's Lace against the black background, very chic and sophisticated. After all the riotous colour of the RuMe and Envirosax bags I have (which I love!) it's a nice break to have something darker and simpler.
I've been using this bag for a couple of weeks now to get a feel for it. First off, I obviously love the design, it looks wonderful with my black trench and boots and I have received a few compliments. I also like that it folds up into a small, thin pouch and fits well in my purse.
It IS a smaller bag than both RuMe and Envirosax designs, but sometimes a smaller bag is a good thing. I kind of think of it as the lovechild between the RuMe and the Envirosax.
Like the RuMe, the handles are long enough to use it on your shoulder, and the styles are delicious. Similar to the Envirosax, the bottom is not squared, and the material is thinner than a RuMe.
I think it works great as a backup bag that lives in your purse. It is less bulky than both of the competition, and also has that awesome little privacy flap that holds your bag shut when you connect the velcro. Nice feature indeed. It's also WAY easier to fold up!
The downsides are that it is a smaller bag and made of lighter material so I'm afraid to put anything too large in there. However it DID manage to house my new black boots on the commute home, though it would have been more comfortable if the bag had been bigger.
I would recommend this for toting things to and from the office, as a backup bag or a lunch bag. You could use it for groceries, but personally I think its a little too small and too stylish for just that! A bigger RuMe would be a better choice.
The My Bag is reasonably priced around $8.95each and is available across Canada, however they are still getting the inventory built up, so your best bet is to buy one online right now.
To get your own My Bag or for more information, you can contact the distributor Penny of Grey Gourmet at penny@greygourmet.com. You can also purchase straight from the website.
As an FYI with all this FTC hullaballoo going on; I did receive this for free from Grey Gourmet to review. And I love it! Thanks Penny!
This post written by Ginger at Ginger Won't Snap.
Like what you read? subscribe here!